---
Ant-Man - small stakes, big laughs

Kiki on 08/31/2015
---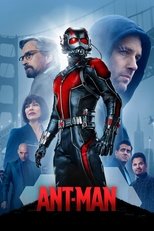 I should point out at this point, I am a giant slut for Marvel. I will pretty much see anything with the Marvel name on it. This is not to say I won't be fair to their films.
So, Ant-Man rundown: Scott Lang (Paul Rudd) gets out of prison, tries to go straight, ends up regressing a little before getting involved with the Ant-Man idea as a way of redemption, has to save the day. Fairly quick rundown, fairly standard tropes.
Here's the thing though, Marvel have this gift for creating likable films. Standard the tropes may be, but they are never boring, and always a pleasant way to spend time. What is this magic they possess? Though it hasn't scored at the box office like Iron Man would do, Ant-Man has done okay enough, and I think it's small stakes have refreshed the audience's palate for Marvel in the wake of the bombastic Avengers 2.
Credit has to go to Paul Rudd here, for creating a really likable ex-con protagonist. He is as charming as ever, but manages to ground the whole thing. If you can't root for Scott, you don't really care at all, and his desire to be a better person for his daughter and just genuinely help is both admirable and likable. Kudos.
Absolute HIGHLIGHT: Michael Peña as Luis. Holy hell, he is so funny. His rapid-fire delivery dialogues, all going on whilst he is attending some swanky art show or something, cracked me up. He is amazing. I want to see Luis pop up in other Marvel properties. I want to see his reactions to everything. A+.
For a film so beset by preproduction problems, I really bloody enjoyed Ant-Man. Credit to Peyton Reed for stepping up into a difficult position and really pulling it off.
One thing for the future – needs moar Hope, and Janet. THANKFULLY it seems as though this is almost certainly something they are planning on in sequels. Pym is hopefully going to spend his time searching for his wife (YES to the CZJ idea) and I really need to see Hope suit up in the next one; she is more qualified, better trained and I just need it, ok?
---
---
Comments
---
You must be loged to add a comment !