---
Avengers: Age of Ultron - bring it oooooooon

Kiki on 08/31/2015
---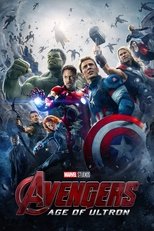 Marvel Fatigue? What Marvel Fatigue? Honey, I was born ready for this film.
This film could as well be called (in the UK only) Avengers Disassemble because let's just say things end up in a pretty different place from where they started, two and a half hours later. We begin with the Avengers as we know and love them, battling through the snow to reach perhaps the last of the major Hydra outposts they have been dismantling. The team is in fine form, each playing their crucial part in what is a wickedly choreographed fight scene. Upon reaching the Highest Room in the Tallest Tower (thanks, Shrek!) they find their goal – 'Please be a secret door…yay!', revealing Loki's sceptre from the first film. This discovery leads to the creation of Ultron, who in this iteration is an AI creation of Stark's. The intention for Ultron was to protect Earth, but in a somewhat well-trodden turn of events, this leads to the conclusion that humanity cannot be protected from itself. What follows is a very cool story where the team try to figure out Ultron's next move and ultimately stop his plan for domination.
Ultron himself (voiced by James Spader) almost feels underused. This is an AI from the mind of Tony Stark, people, with his humour and deadpan-genius vibe! His beating Tony to the omelette joke really cracked (hah!) me up. They're lucky they got James Spader to voice His Sardonicness – there is something not entirely satisfying about Ultron's motives, continuing Marvel's odd tradition of not quite being able to get the villains 100% right, bar Loki – but Spader's coolly practical Ultron has flashes of greatness. His apologies for ripping someone's arm off somewhat resemble the apologies you would make to someone who you bumped into on the Tube and these contradictions are kind of hilariously endearing in the lead-up to the final battle.
All the praise for Elizabeth Olsen is deserved – Wanda is great from start to finish. She is conflicted and angry in the first, and upon realising what she has gotten involved with, ultimately heroic in choosing to put away her personal anger for the greater good of her people.
*cue GOTG gif where Quill screams that he is trying to save the Galaxy because he is 'one of the idiots who lives in it!'*
Another standout is Jeremy Renner's Hawkeye. Sadly sidelined in the first film, Hawkeye is the only Avenger who manages to evade Wanda's trap with a great retort about his dislike for mind control. People love his speech to her in the film (you know the one I mean), and I did too, but weirdly, my absolute favourite moment from him is when he's all by himself, Quicksilver having just left the shot with a snappy departing quip – 'No one would know…'. This is of course followed by tragic events a few minutes later, Joss, but dammit, Whedon sure does have a talent for writing team-bonding banter.
One thing I do not get is the reaction to Natasha in this film. People complaining she is damseled? Um, how? Yeah, she gets captured by Ultron (although at this point I couldn't quite suspend my belief that Ultron wouldn't just kill her on the spot) but it really is for all of ten seconds. She is then freed, and proceeds to choose to stay and fight as a hero, rather than run away. Ok. She is a love interest? I really would argue that Bruce is her love interest rather than the other way around, and that there is a very valid reason why the two who feel like monsters would gravitate together of all the team. Besides, she is a hero, a fighter, a friend and an 'Aunt' in this film. Giving her a love interest really doesn't seem like a bad thing to do. She still is a multi-faceted, fantastic character who is still largely a mystery. Granted we do find out more about her backstory and training in the Red Room in this film, including what happens at 'graduation'. Read in a certain light, I could see how people could complain about this, but, come on, she only reveals her sterilisation in retaliation to Bruce's declaration that he can't give her 'any of this!', 'this' being a home, kids, etc. a) I don't know why Bruce would assume she wants that but more importantly b) she's not saying that not being able to have kids makes her a monster - it was what was forced upon her at a young age, being trained as an assassin and her later life that did that.
I'm all for a feminist rallying cry when needed, and tbh Marvel could seriously do with more female characters in their properties but people may need to chill on this one. I honestly think that if there was more than one female Avenger (now to be two) at this point in the film, the backlash wouldn't be half so big. So, Feige, step it up, yeah?
This film is huge. So much happens. It is surprisingly self-contained for the tenth (?) film in a series and I enjoyed the hell of it. It may not break my Top Three Marvel films of all time but it's certainly a close fourth.
---
---
Comments
---
You must be loged to add a comment !