---
Ex Machina - sci-fi perfection

Kiki on 08/31/2015
---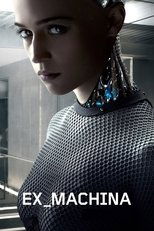 This is going to be a short one.
Because all I can say is this film was TERRIFYING. It is the story of a programmer (Domhnall Gleeson) who is invited by his employer (Oscar Isaac) to administer the Turing test to an android with artificial intelligence (Alicia Vikander). The story beats sound simple-ish (well, you know, within reason) but I still find myself thinking about it days later.
Gleeson is intriguingly sympathetic as Caleb, despite the fact that he some seriously dickish tendencies. Is this just a hangover from Gleeson in About Time? Maybe, but I still think he innately makes you root for him, at least a bit, and particularly given the utter horror at the end.
Isaac is good in this -- so good as an utter arsehole that I hated his character from the very beginning. His actions become increasingly creepy but he still manages to leave room for speculation about how and why he has created this machine. Well played, sir.
Alicia Vikander is so great as Ava. It must be so hard to play a robot, not least a robot who is sentient, but she is basically spellbinding. Ava's little human touches when she knows no one can see her make her so fascinatingly inscrutable. What is her game?!
Like I said, this film left me with so many questions. I keep wondering how Ava is going to power up in the real world? Unless she can learn how to repair herself, she's going to have a limited lifetime like the rest of us. What was her story to the pilots? What is her plan in the real world? How is she going to change her clothes and hair?
---
---
Comments
---
You must be loged to add a comment !