---
Furious 7 - who'da thunk it?

Kiki on 08/31/2015
---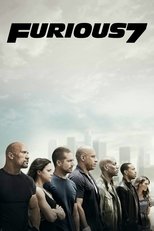 I should start this by saying, I freaking love the Fast and Furious series. I have not the faintest of ideas why; I am not the target audience, for sure, I don't give a shit about cars, and explosions bore me at the best of times. I loathe Michael Bay and all of his Transformers-esque bullshit.
To be honest, the first film hooked me on the chemistry between the cop and his mark, just like it's spiritual predecessor, Point Break did. The cars just raised the stakes. There's that line in the first film about how Dom is 'like gravity. Everything just [gets] pulled to him' and I completely buy that. And that's all due to the actors and their performances. Speed down to the seventh film in the line and that's still true – he is what holds all these people together, but crucially it's the partnership with Brian which drove things forward. The moments in Furious 7 when these two are onscreen together are the film's best; though we love Roman (earn that paycheque, Tyrese! TM CinemaSins), Tej and Letty, the magic isn't quite the same. These films hit casting gold with Vin Diesel and Paul Walker, whose real life chemistry and friendship inevitably crossed over to their onscreen personas too.
Furious 7 has a very different story to the rest of the franchise, with black-ops groups recruiting Our Heroes to rescue a computer hacker and, more critically, the computer program that comes along with it. No longer Point Break on wheels, or even Ocean's Eleven on wheels, Furious 7 upgrades to full-on James Bond-esque action, with shadowy government groups seemingly pulling all the strings.
I think that's what makes this film so…close, for me, at least. They had such a winning formula; cast chemistry, undeniably impressive cars and stunts, implausibly endearing scripts, and a director who could tie all this together in a palatable bow for the audience's delight. James Wan is by no means a bad director – indeed he is incredibly admirable for taking all of this on. I suppose I miss Justin's Lin's deft hand, though – seriously, just try watching the safe chase scene from Fast Five again. Follow it closely – can you tell what is happening? Because I can and I credit that entirely to Lin. But with the shift in story stakes, with the change of director, what this film really needed to totally succeed was its strong cast. Without that seamless backdrop, it falters at the last hurdle, making an enjoyable but not completely satisfying film.
This is not to say the film is bad, at all. It's incredibly entertaining, quippy ('cars don't fly!'), globe-trotting stuntfest of a film. The ending is crafted with such care it will make you tear up. It's a fitting tribute to Paul Walker, and the film's themes about family will resonate with everyone.
---
---
Comments
---
You must be loged to add a comment !