---
Terminator Genisys - to hell with the reviewers

Kiki on 08/31/2015
---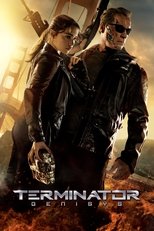 Do you know what? I bloody liked this film. Screw everyone else.
This is not to say it's a masterpiece. CGI – ehh, you've seen it before. Movie Physics are in full play as buses flip, bodies are tossed into concrete and hit metal with no more need to shrug it off than if you had a papercut. It's not a patch on T2, Jai Courtney could not be further from a malnourished sewer rat, and Emilia Clarke is no Linda Hamilton. But then again, who among us really is?
What Terminator Genisys (not an entirely stupid title, as it turns out) has going for it, actually is the story. The plot is a new spin on the classic formula of time travel, memory and machine. It's the little touches and questions that got me, though. Sarah's attachment to the T-800, knowing he's a machine but feeling attached none the less, is fascinating. You have to remind yourself that in this iteration of events, he has been her only source of 'human' contact for nigh on half her life. In light of that, her attitude to Kyle makes a hell of a lot of sense.
Genisys seems to me to be unfairly maligned, especially compared to the mostly positive reception Jurassic World got earlier in the year. The majesty of dinosaurs is present in both Park and World, but the terror, the danger never seems to be a real consequence in the latter. This is true of both Genisys and its predecessor, however, the Terminators compare rather more favourably when you consider the crucial ideas at the centre – what is man? What is machine? Are we both, or neither? Can we change and grow? Can they change and grow? When Sarah sees the drawings she did as a young child, you can wonder why the Terminator kept them, and form your own conclusions. The film doesn't spell it out and that's certainly the best way to go about it.
Like I said, not as good as T2. But hell, seeing Arnie back in action is excellent, and at least it aims big. It gets damn close, too.
---
---
Comments
---
You must be loged to add a comment !