---
What If - millennial WHMS

Kiki on 08/31/2015 updated on 09/06/2015
---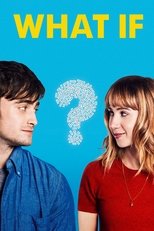 Re-watching this film recently, it spoke to me on a new level and thus I decided to write a review!
Bear in mind, this is in the context of entering my mid-twenties, unemployed and single, with few prospects on the horizon (wow, I sound like a winner. I promise, I am super fun. And I have great taste in films, so you know, you're onto a winner there).
I had liked this film last time I saw it, but now I appreciate Wallace's dark humour more. Last time I thought he was a bit too sharp, and just put this down to his character but now his acerbic-ness, and the responses of his companions, delight me! I was like YES WALLACE I FEEL YOU RIGHT NOW ADULTHOOD IS HARD. I maaaaay have been projecting, a tad but since paranoid scepticism is sort of my default, clearly this was always on the cards.
Some great Wallace conversations include:
-"100% honesty is the foundation of any relationship". "What, you are 100% honest with Nicole? About everything?" "Yes!" "New Orleans, 2006, what was her name, uh, Fabia? Yeah, she did look like a woman, to be fair." "…99% honesty is the foundation of any relationship."
-"You can't interact with a woman without sex screwing it up, but I can, because I am a grown-up." "It's so adorable that you really believe that."
-*knocks someone out of a window* "Sorry! …you look fine!"
-"Wait, since when does being a man involve expressing your feelings? Did I miss a memo? Because if I recall, being a man meant hiding your feelings forever. Like Bruce Willis, you never see Bruce Willis expressing his feelings. The most you ever get out of Bruce is a hint of melancholy at the edge of a smirk."
and other such gems.
As things go on, the charm does get turned up a few notches, though never reaches cutesy saturation. Wallace's cynicism is clearly an attempt to hide a romantic mindset anyway, and the plot seamlessly glides along.
This film is clearly a riff on the When Harry Met Sally, can-men-and-women-be-friends?-formula but the leads have decent chemistry and you do root for them so, in the end, you don't even mind. Basically what I am saying is, I'm a sucker for a half decent rom-com. And this one rises far above that occasion.
---
---
Comments
---
You must be loged to add a comment !