---
Review of The Raid - holy hell

Kiki on 08/31/2015
---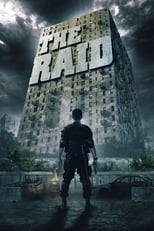 The Raid is like, woah. I mean just crazy! I can barely either fathom what I just saw.

The Raid starts off with a rookie cop (who shall henceforth be known Rookie, as I am only partly
The Raid is like, woah. I mean just crazy! I can barely either fathom what I just saw.
The Raid starts off with a rookie cop (who shall henceforth be known Rookie, as I am only partly sure of his name, though this matters not one jot) at home - long story short, pregnant wife, tells a man (presumably Rookie Senior) that he will 'bring him back'. Mysterious. I like it.
Action then moves to police van, where Rookie and numerous other policemen are gathered, head policeman (whose name I actually did take it for some reason - Jaka!) is meeting up with an older shifty-looking lieutenant and then psyching the guys up for this raid which is about to go down. In a dilapidated looking tower block. Where the bad guy (who likes to murder those who displease him in imaginatively grisly ways) is based on the top floor. So they're going to raid that giant-ass building with a van full of officers? And no one finds this suspicious...why? I mean, I know the answer is 'because movie' and the reason for this does become apparent later on, but really? No one thought to question it? O-okay. Righty-ho. Onwards we go. Though it was at this point, that I thought this might be Indonesia's answer to Attack the Block? Lots to live up to.
The police then proceed to bus their way into the building, securing each floor in a relatively unobtrusive matter until they are busted and the alarm is raised. It is at this point that LITERALLY EVERY CRAZY IN THE VICINITY APPEARS. Baddie has ominously promised permanent rent-free living to anyone who kills a cop. And I mean...not to condone murder, but for real, way to motivate, dude, My rent is horrendous. Though I live in a flat, not this nightmarish hellscape. It was at this point when I also realised I shouldn't worry that half of these policemen hadn't been named yet - they were all promptly killed off in very gruesome ways, by an army of gangsters whom I have creatively titled Titch, Eyeballs, Hairy, Machete #1, Machete #2, Machete #3 and Gormless.They try to call for back-up but it turns out that that Shifty Lieutenant was indeed EXTREMELY FUCKING SHIFTY because this operation is totally being done on the down low so nobody bloody knows that they're there. Oh jesus.
Long story short, we end up following Rookie, who is just, beyond anything - in a film noted mainly for its mental action sequences, you actually end up quite liking him! Iko Uwais is really very charismatic to pull this off. Going into this, I entirely expected not to give a shit and just to watch for the martial arts (silat? If i am not mistaken?) but seriously, I really ended up rooting for him!
Rookie ends up semi-solving the mystery of the operation, which I am sure will be further explored in the sequel, but sadly not bringing back anyone other than one of his injured colleagues and Shifty Lieutenant Under Arrest. Yeah, go Rookie! Rookie Senior is going to be pissed though.
---
---
Comments
---
You must be loged to add a comment !